Case Study – A1 Embassy Project
During 2011 to 2014, we were successfully appointed as the key logistics firm to handle the end-to-end logistics and supply chain project for the construction of the Chinese Embassy in Canberra.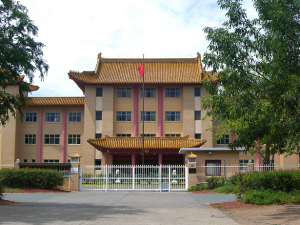 All bulk build materials required for the construction was originated in China and was required to be shipped in container-loads via sea freight to Sydney, Australia, whereby it would be transported from wharf to the customers' premises. Due to the sensitive nature of the product being moved in addition to the contractual requirements of the tender, absolute commitment and responsibility to security, intelligence and confidentiality was of utmost importance.
The team accomplished this logistics feat through detailed operational procedures including route optimisation and coordination with embassy representatives, speedy customs clearance and quarantine and liaising closely with various loading ports, government agencies and Patricks wharf management teams for priority container discharge from the vessel.
In addition, the project team marshalled the necessary special transport equipment, embassy personnel in addition to a band of trusted logistics partners and subcontractors to ensure the final last mile distribution of the cargo was successfully completed. This was actioned by complete monitoring and supervision of the cargo as it was unloaded onto the terminal wharf, and then supervised by a security convoy every step of the way to the final destination in Canberra.
Our commitment, reliability and superior execution to the project enabled successful delivery of the cargo from China to Australia, on time, on budget and well within the expected KPI levels.
Unforeseen circumstances which had affected the project included:
Longer personnel standby time due to weather conditions affecting vessel discharge

Unbalanced container packing affecting weight checkpoints near Canberra

Truck breakdown during long distance hauls.
However, detailed operational procedures and flexible contingency plans allowed the effects of the above complexities and difficulties to be greatly reduced.